About Us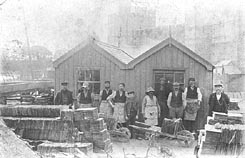 The Slatesite is part of AGOR, providing digitised information on extractive industries for The People's Network.
This site will offer a wide range of materials for learning about Wales' slate quarries, the lives of the quarrymen, about the uses for slate, and about the slate areas' ecology. The site should be completed by October 2002. 
The Slatesite project is based at the Caernarfon Record Office, part of Gwynedd Council.
A sister site, CWM, prepared by University of Wales, Swansea's Library and Information Department, will tell the story of coal and colliers in Wales.
Slatesite is being created by a partnership including Gwynedd Council's Archives Service, the Welsh Slate Museum (National Museums and Galleries of Wales), Cynefin Environmental Ltd., Faenol Cyf., and Howard Bowcott (sculptor).
Contact details for the project are as follows: 
The Slatesite Project 
c/o Caernarfon Record Office
Gwynedd Council
Council Offices
CAERNARFON
LL55 1SH
Tel: 01286 679095
E-mail: archives@gwynedd.gov.uk
The project is being funded by the New Opportunities Fund.