Communities - Sport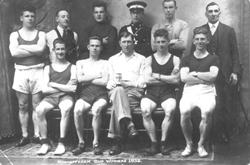 Non-conformists would frown upon games and amusements.  Only with the introduction of the intermediate schools in the years following 1889 would football become `respectable', and local teams were formed who played in local leagues.  Some quarries established their own football teams to compete against players from other quarries.
Angling appears to have been a very popular, and acceptable, pastime.  Fishing clubs were created in the slate quarrying areas.    Indeed, angling was so popular in Blaenau Ffestiniog, that tens of original fishing fly designs were created in the area.
Illegal Fishing and Game
In order to try and stop illegal fishing and poaching in Penrhyn Park, Lord Penrhyn gave a length of the river Ogwen for the public to fish there. Twelve trustees were responsible for giving out permits. But it also is apparent that a similar scheme existed on a 2.75 mile length of the river Caseg from its source to the mountain wall above the enclosed land. This became apparent in a court action on June 5th, 1900 and three quarrymen from Caerllwyngrydd who were on strike.
Of the three, only William Jones was released as he had been carrying a fishing rod, whilst the other two, William Pritchard and Rowland Jones were found guilty of using clods of earth and stones to divert one of the tributaries of the river itself.. They were fined 20/- with 7/6 costs.
(The defence tried to prove that the estate actually had no rights over this stretch of river, but H.C. Vincent, lawyer to the estate produced a deed of conveyance (albeit unstamped dated 1858 to prove the point of ownership.) Interesting! Griffith and Richard Thomas were accused of using stones to kill salmon in the river not for from Abergwyngregyn Station. Their action came before the bench on August 7th, 1900. They were found guilty and fined 10/- plus costs.
Eight months later, on April 4th, 1901 William Jones and Griffith John Thomas were fined 2/6 each plus costs for illegal fishing.
Two counts of game trespass were heard during the same period, one against David Parry and Owen Owens, who were accused of being on Mynydd Bwlchyffordd at eight in the morning with a dog. The action was held on June 6th, 1901. It was reported that there were plenty of rabbits here, but that this land was the best land on the Penrhyn Estate for breeding grouse. David Parry maintained that he and his friend had not left the footpath at all and that the dog had escaped into the heather.
However, Robert Owen the gamekeeper testified that he had seen David Parry send the dog into the heather and had also seen Owen Owens wandering off the footpath. However, another witness could not specifically state that it indeed was Owen Owens in the heather. Consequently, he was released. David Parry though was fined to the sum of 5/- and 5/6 costs.
It is possible that William Davies, or Billie Pentraeth, wasn't a quarryman. He was accused on April 3rd, 1901 of being on the mountain at ten o'clock in the morning, with bulging pockets. These contained three nets, pegs and a ferret. His trousers and boots were also soaking wet. He was fined 10/-, 8/6 costs, imprisoned for 14 days and had the nets confiscated.
Only very few cases of illegal fishing and illegal hunting appeared before the bench at Bangor during this period. There was only one action of poaching and that was severely dealt with.
An interesting action came before the Petty Sessions at Betws y Coed on December 8th, 1906 when two quarrymen were accused of poaching on Penrhyn land. Ellis and Michael Thomas were accused of poaching on December 1st.
They were both seen that evening by the gamekeeper who went with the local constable to where Michael Thomas lived. His trousers were wet, and in an outbuilding they saw Ellis Thomas, with two lurchers, puppies and two ferrets.
By the date of the court action Michael was nowhere to be seen so Ellis was in the dock alone. His defence was that the reason why his trousers were wet was that he had been to Rhiw Bach Quarry earlier that morning. Annie Jones his fiancee further testified that Ellis had taken her home at quarter past nine on the night in question. Another witness, David Davies, Bryn Ifor testified that after taking Annie Jones home from Bryn Ifor, Ellis has returned there by half past ten. David Davies' daughter further testified that she had seen Ellis asleep between half past eleven and midnight. Ellis further stated that he has left Bryn Ifor for the quarry at half past five the following morning, and had then come home and that was the reason why his trousers were wet.
On a majority vote the action was thrown out. 
So there is no doubt that from time to time illegal fishing and hunting as well as poaching did occur among the quarrymen.