Slate - The Slate Formation 
There are five main areas where slate of commercial importance is found. Firstly, in central Gwynedd, inclusive of Bethesda, Llanberis and Nantlle. Here, the slate beds belong to the Cambrian age. Secondly, the area between Blaenau Ffestiniog and Capel Curig where the slate beds belong to the Ordovician period. Thirdly, the area between Tywyn and Dinas Mawddwy around Corris and into adjacent parts of Montgomery, where the slate comes from the Ordovician and Silurian era. Fourthly, the area around Llangollen and Corwen in Denbighshire and eastern Gwynedd where the slates are of the Silurian age. Fifthly, the Preseli area of Pembrokeshire and the adjoining parts of Carmarthenshire, where the slates belong to the Ordovician period.
All of this slate was formed during the Palaeozoic Era, at a time, when what we today know as north Wales was buried beneath the sea. It was during the Cambrian period that mud, pebbles and sand collected at a depth of 1,525 m. in the Caernarfon area, and at around 4,000 m. in Meirionydd. During the Ordovician period, volcanoes erupted on the seabed when over time, sediment buried what we now call slate to a depth of around 7,600 m. Violent disturbances during the Silurian and Devonian periods which presses the already formed rocks together. Both these sedimentary and volcanic rocks were folded by this pressure into mountains and formed part of a chain running approximately from the north-east to the south-west.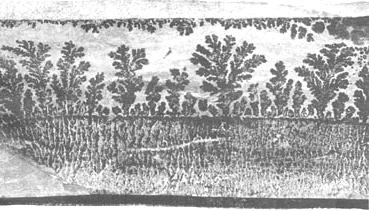 Right: Dendrites have formed on this Nantlle slate giving a plant-like appearance.
The Arfon Slate Area
So, the slate beds of Caernarfon stretching from the area from Bethesda via Llanberis, Moel Tryfan and Nantlle to Penygroes are of Cambrian formation. These slate beds include two of the largest quarries in the world, namely the Dinorwig and Penrhyn Quarries that are on opposite sides to the Elidir Fawr. On the opposite side of the valley to Dinorwig, above Llyn Padarn, the Glynrhonwy Quarries are found. Six miles south-west from Llanberis are the quarries of the Nantlle Valley, where the slate outcrops on the floor of the valley. Whereas the quarries at Penrhyn and Dinorwig are worked in open terraces, at Dorothea and Penyrorsedd Quarries they are worked in deep pits.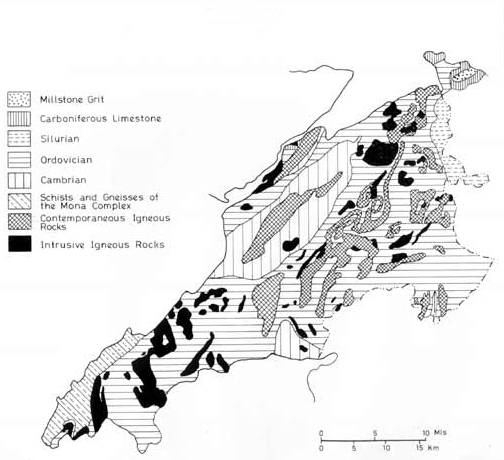 The Merionnydd Slate Area
The most important slate beds of the Ordovician rocks are to be found around the Blaenau Ffestiniog area, and since the slate formations in Meirionnydd generally dip deep under the mountains, the slate is mined. To the north-east of Blaenau Ffestiniog are the old quarries at Penmachno and Dolwyddelan. Other commercial slate producing areas of this period occur in the area from Cricieth and Porthmadog to the south-west, running towards the River Conwy near Trefriw in the south-east.