Slate - Writing Slates
Writing slate production has a long history going back to the 18th century. In 1778, Thomas Pennant states in his book Tours in Wales:
The number of writing slates manufactured and exported from Port Penrhyn for the last twelve months, is 136,000; the consumption of timber in this very trifling article is upwards of 3000 feet in the year; and the number of workmen employed are from 25-30.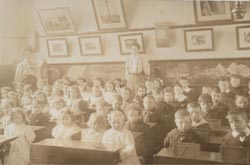 At the beginning of the twentieth century writing slate manufacture was one of the major markets for slate.
Whilst roofing slates accounted for most slate production, in many ways writing slate manufacture was more sophisticated. The number of stages in the production of a writing slate was infinitely greater. Writing slates were produced in facilities that could be described as factories, and not just slate mills.
Whereas roofing slate was produced at or near the quarry, writing slates were often produced in nearby towns or villages. Bangor in 1880 had no fewer that five producers of writing slate operating within the city.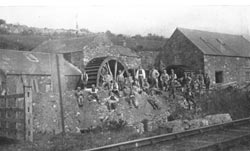 Writing slates were available in many designs: lined slates, slates divided into with squares, slates with maps, two and three-leafed slates. (The writing slate equivalent of a book.)
The main advantage of writing slates was economy. They were ideal for practising handwriting or drawing. Errors would be erased, and work resumed.
One reason why slates became less popular was the issue of hygiene. For instance, it was not unknown for children to spit on their slate before wiping the slate in order to clean it.