Slate - Wales and the North American Slate Industry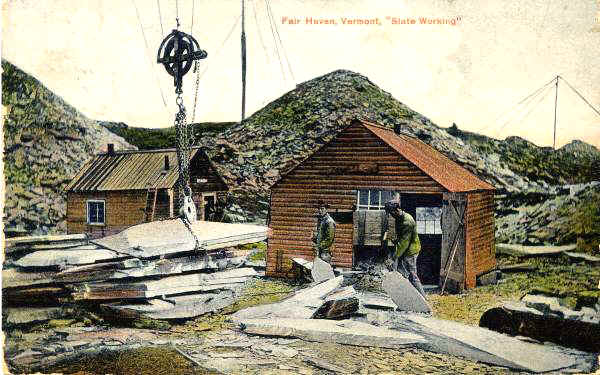 Even though slate is found in many areas of the United States, the eastern states were the main producers - Maine, New York, Vermont, Pennsylvania, Maryland and Virginia. But by today, slate production is to all intents and purposes restricted to the Vermont and Pennsylvania. The slate industry suffered the same severe decline and for the same reasons in the main as the industry in Wales.
Slate was quarried in the provinces of Quebec and Newfoundland in Canada as well.
Early immigration - 18th century
It appears that the oldest quarries in the U.S.A. are those at Peach Bottom on the border between Maryland and Pennsylvania. Two Welshmen, William and James Reese started quarrying here in 1734. But further documentary evidence of the early history of the industry is difficult to discover. Many Welsh quarrymen settled there with their families in 1848 and a year later formed a nondenominational Capel Bangor. After the Great Exhibition of 1851 many experts regarded Peach Bottom slate as the best in the world.
Immigration - 19th century
There is no doubt that it was the 'hungry forties' that gave the first great impetus to immigration from Wales, with passages being offered not only to North America but also to Australia from Liverpool. Getting to Liverpool was not difficult since there was a thriving coastal trade from ports such as Menai Bridge or Caernarfon. This tendency carried on through the 1850's. A large number left Bethesda in 1852, whilst in 1853 twenty-eight from Llanberis sailed directly from Menai Bridge. Before the end of the year many left the Dinorwig Quarry for the same destination, Granville.
However crossing the Atlantic Ocean was not to be taken lightly in those days. A party from Bethesda and Llanberis sailed from Liverpool on Saint David's Day, 1854, joining with other prospective immigrants to form a group numbering 580.
They sailed, and nothing was ever heard of them again.
All in all though, is estimated that 1,352 people left the Bethesda and Llanberis areas between 1845 and 1851 for the state of Vermont.
But Welsh immigrants developed the slate quarries of other New England States. Virginian slate was being produced before 1851 but it was after the American Civil War that Welsh immigrants really moved in, many of which came from Vermont. By 1881 one Welsh Quarry in 'Arvonia' employed 100 mostly Welsh workers. With the building of the railroad to the area in 1885, the industry flourished, booming between 1900 and 1910. Indeed the slate was awarded a gold medal at the Philadelphia Exposition in 1876 at the 1893 World's Columbian Exposition at Chicago in 1893.
Welsh development of the industry was happening in Georgia by the early 1850's, whilst twenty years later, William Griffith Jones, who was born in Bethesda, discovered an outcropping of slate whilst riding his horse. Little did he know but he (or his horse) had stumbled on a tiny section of one of Monson's immense slate belts. Recognising the quality of the slate he bought the land from the unsuspecting innkeeper who owned it and started his Eureka Slate Quarry in a matter of days. By 1885 a newspaper was being published under the title of The Monson Slate from Bangor, Maine.
Another Bangor in the state of Pennsylvania took its name from the Old Bangor Quarry opened by Robert Morris Jones an immigrant from Bethesda (yet again.) Another quarry, near Slatford, which operated from 1870-1917, was known as the Snowdon Quarry, once again showing the Welsh links.
Other Welsh slate quarrying areas in Pennsylvania were at Peter's Creek, Lancaster County, where a Richard Jones had opened a quarry by 1859 employing forty five quarry men, forty of whom were Welsh. In 1852 hundreds of Welshmen were earning their living at Slate Hill, York County. Their number had increased to over 600 by 1872. Whilst at Slatington, Leghigh County, one Owen Jones from Gwredog, near Caernarfon had discovered slate. This led to the founding of Welsh Town. He returned to Wales to persuade others to join him in his venture. By 1859 the vast majority of the population were from Clegir, Llanrug and Llanddeiniolen.
R.D. Thomas, Iorthryn Gwynedd was very confident for the future of the North American Slate Industry in 1872.
'The quarries in Pennsylvania are only small in number and size compared to the great quarries of Arfon and Meirion in Wales. But I believe that larger quarries will soon be discovered in this state as well as in others like Vermont, Maine, Virginia, Tennessee and Minnesota and there will be a need for many quarrymen…But more quarries need to be opened to give new life to the slate trade before quarrymen will be needed.
(Hanes Cymry America, R.D. Thomas, page 70.)


In this context it must be remembered also that from as early as 1868 W.J. Parry was a firm preacher of immigration. Neither can it be ignored that over the years he was employed as agent for at least ten shipping companies. He therefore had a vested interest in preaching the doctrine of immigration to the quarrymen.
Zoom in on Vermont
It was often said in the States that: 'where the Welsh were there was a chapel.'
The first Welsh Sunday School in the state of Vermont was founded by 1850. Then came the chapels, Preaching meetings, and by 1858 (the founding year of the magazine, Y Cenhadwr Americanaidd) the Eisteddfod had arrived. Welsh language newspapers were also founded, starting with Y Drych in 1851 in New York, followed by Baner America at Scranton in 1868, Y Wasg at Pittsburgh in 1871 and Y Columbia at Chicago in 1888.
By the 1860's, the press of T.J. Griffiths, at Utica was printing Welsh language books. Indeed the publishing links with Wales at times took no notice of the Atlantic Ocean. Thomas Levi of Aberystwyth, Wales, wrote a biography of the Revd. Howell Powell of New York, which was printed in London, England, and published by Howell Powell's sons from 204, East 16th Street, New York!
By 1868 the premier Welsh concert artistes, like Lewis William Lewis (1831-1901) Llew Llwyfo were crossing to undertake concert tours in the Welsh settlements. He was in Fair Haven in 1868 where he met one of his old friends from Llanberis, John Owen Glanmarchlyn. Five years later, the great Welsh prima donna, Edith Wynne (1841-1897) was performing at Boston. Links with the old country were further strengthened by choral links. The Royal Welsh Ladies Choir, winners of the Ladies Choir competition at the Chicago Exposition Eisteddfod in 1893 were over in 1895. The Penrhyn Male Voice Choir, runners up to the Rhondda Male Voice Choir at the same event in 1893 gave concerts before leaving for home, and the Royal Moelwyn Male Voice Choir from Blaenau Ffestiniog came over on concert tours three times between 1909 and 1914 visiting both Granville and Fair Haven. Indeed the slate brass band tradition had reached Fair Haven by 1868, as Rowland Walter, (d. 1884) Ionoron Glan Dwyryd and also the first Welsh poet from the North American Slate Industry to have his works published, praised the 'Cambrian Cornet Band.'
'Swn y cyrn sy'n swyno carnau-'r awen
I dreio ei doniau 
A swn gwych eich lleisiau'n gwau, 
Rhwygwch yr awyr hogiau.'
'The sound of the horns stimulate the muse To compose, And listening to the superb sound of your voice, Split the sky, boys. (trans.)
Hardly great poetry, but at least culture existed, flourished and appreciated.
Culturally, it can be argued that the pinnacle of activities was reached in Vermont from 1870-1914. The eisteddfod was in full swing and the rival choirs from West Pawlet and Poultney vied each other for victory. Indeed by 1884 there was a Fair Haven Choral Union and a Fair Haven Male Voice Choir flourishing. The Eisteddfod had become such an important event that a shopkeeper from Granville, G. Parker actually sold a 5cent cigar labelled The Eisteddfod. This is understandable in a way; after all there was a crown of between 2,500 and 3,000 people at the Granville Eisteddfod of 1907. Indeed, just as in Wales, slate splitting competitions were held at the eisteddfodau. By 1914 Drama Clubs performing in Welsh were in existence as well.
Jamesville another slate quarrying centre was names after the five brothers, John, Owen, William, James and Evan of the James family from Llanberis around 1860, and Blissville was populated with quarrymen from both Arfon and Meirionydd in the early 1850's.
Indeed by 1871 Blissville could boast 11 slate quarrying companies run by Welsh immigrants from Arfon:
The Olive Branch Company
The Cambrian Slate Company
The Mottled Green Slate Quarry
The Poultey Quarry Company
The Welsh Company
The Green Mountain Slate and Tile Company
The Gibson Slate Quarry
The New York and Baltimore Quarry Company
The Forest Hill Company
The Old Franklin Quarry
Williams Humphreys & Company
However it must be kept in mind that other industries drew Welsh immigrants to Vermont such as the coal industry at Hartford, especially so from 1853. But it appears that it was Fair Haven that developed as the main centre for quarrymen immigrants.
---
The Great Vermont Welsh Slate Magnates:
William Rowland Williams (1821-83)
Born in Caernarfon he immigrated to Vermont in 1842. It was commonly held that anyone could find slate in the area of Castleton, Poultney and Fair Haven, but that the challenge was to discover the best slate. W.R. Williams had this gift it appears as far as Rutland County was concerned. In 1849 he was superintending the Whitlock quarry, assisted by Edward Morris It is claimed that both they were the first immigrants from Wales to settle there. By 1850, he, his brother John and John Humphrey, another partner had opened the first slate quarry there. Three years later W.R. Williams had opened the Green Mountain Quarry to the south of Poultney. By then, W.R. Williams was living at Middle Granville. Four years later an interdenominational Welsh chapel was founded in which he was involved.
John Humphrey came originally from Bala to Fair Haven and opened the Eagle Quarry. He left for the slate areas of Virginia in 1870 returning nine years later to become General manager of the Great Western Slate Company.
Eleazar Jones (1825-83)
Born in Bethesda, by 1856 he had set up the Penrhyn Slate Company at Middle Granville, which prospered for 50 years. He subsequently became a member of the New York Assembly. By 1875, his company was producing more slate mantle pieces than any other company in the world at that time.
Hugh Griffith Hughes (1844-84) 'The Slate King of Vermont.'
Not much is known about his early life apart that he came to the States in 1863 and purchased the Hooker Quarry at Poultney in the 1870's. He subsequently opened the Eureka Quarry. He was killed by a fall of slate at the quarry in 1884.
Thomas Edwards (1829-97)
Born at Llangollen, an area of many small slate quarries, in 1857 he had opened the Eagle Quarry and a quarry for the Hooker family of Poultney. He bought a farm in South Poultney in 1873 where there excellent slate beds. By 1884 he was rich enough to be able to spend winters in Florida. Despite the fact that he han only a very imperfect knowledge of English, his business prospered and he left an estate of $25,000 on his death.
William Griffith (1832-1914?)
Born at Tregarth, he was unique in the fact that he had had some education in Wales, at Rachub National School and then at a private school at Penygroes. He was working at the Penrhyn Quarry by 1849 and immigrated to Vermont during the 1850's and joining Eleazar Jones's Penrhyn Slate Company at Middle Granville in 1860. This company had five quarries working in 1884.
He returned to Bethesda to marry in 1865 and brought his new wife back to Vermont. Entering into partnership with William Nathaniel in 1871 with only two other quarrymen he opened a quarry on the sea green belt. Taking advantage of the Penrhyn Strike of 1874 back home in Wales he expanded his markets. By 1881 he was selling slates to the tune of $250,000 yearly.
He also had his share of labour problems with three strikes, 1860, 1894 and 1898 over wage reductions. In 1896-7 he organised collections to assist the Penrhyn strikers back home.
He was also interested in poetry, having been given a 'bardic name' Gwilym Caledffrwd in an eisteddfod at Llanfachraeth, Anglesey in 1855. He even found time to conduct the Middle Granville Chorus and many other choirs. Under his baton the Granville Choir performed at the Boston Peace Jubilee of 1869 and the Boston Music Festival three years later. He also was responsible for a short-lived publication Y Canigydd Cymreig (The Welsh Glee Book.)
Hugh William Hughes (1836-1890.)
Born in the hamlet of Nazareth, by Llanllyfni, he immigrated to the States in the 1850's with only $3.00 to his name. Between 1857 and 1863 when he married, worked at various times in the lead mines of Dodgeville, Wisconsin, the copper mines by Lake Superior, at the Fair Haven Quarries. He then moved to a quarry in Georgia but was forced to flee without a cent to his name to escape being conscripted to the Confederate Army.
By 1866 his monthly wage bill to his workers was $13,000 whilst his monthly sales totalled $200,000. He purchased one of the grandest houses in Granville for $10,000 in 1888. He visited his quarries daily in a coach and four.
With his health in decline he spent long periods at Colorado and Bermuda in 1889. He died of tuberculosis in February 1890, leaving an estate estimated at being worth $500,000.
Not bad for a man who could not read or write apart from his own name!
William Hugh Hughes (his son) 1864-1903.
He saw slate production in Vermont because of the Great Strike of 1900-03 at Penrhyn. He was elected Mayor of Granville, was a member of the New York Assembly in 1901 and 1902 as well as being director of two Granville banks.
However at the peak of the slate boom he was declared bankrupt. Having liabilities of $337,763 and assets of only $252,425. Shortly after hi re election in 1903 he hanged himself. His generosity was legendary. Between 3,000 and 4,000 mourners paid their last respects to him. After his death it was discovered that he had never kept proper accounts of all his business dealings.
Others carved fairly comfortable lives for themselves and their families like Benjamin Williams of Fair Haven, and his son of the same name who became Deputy Governor of Virginia.
The majority though arrived as quarrymen and died as quarrymen.
The decline
1908-10 was the last profitable years for the slate industry in Vermont. New, cheap roofing materials. By 1918 many quarrymen were working short hours or unemployed. There was a mass exodus of workmen as a result of the 1917-18 war, most of which never returned which in turn led to a speedy decline of the Welsh language and culture.
Another factor to be remembered is that many second generation Welsh immigrants left the quarry for other employment. Consequently many Slav and Italian migrant workers moved in to work at the quarries.
The eisteddfod died, the chapels closed one by one but the Poultney Male Voice Chorus sang on until the 1950's.
However resurgence in interest in Welsh heritage has been experienced in the old slate quarrying areas from the late 1980's onwards with vibrant cultural centres and museums being developed in many of the old slate centres.