Transport
Railways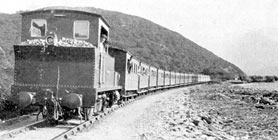 By the end of the eighteenth century internal tramways were a common feature in many quarries. In some quarries inclines had also been constructed. Outside the quarries, horses and mules were used to carry the loads of slate. Indeed, there are many references to women being employed to be in charge of the horses or mules during the early 1800's. As the owners, the local farmers made a handsome profit into the bargain.
In 1801 Richard Pennant took advantage of the fact that the slate trade was slow, and that many of his quarrymen had been involved in the Caernarfon Riots to construct a tramway from the quarry to Porth Penrhyn. It was followed by the Dinorwig tramway in 1824, and the Nantlle tramway in 1828.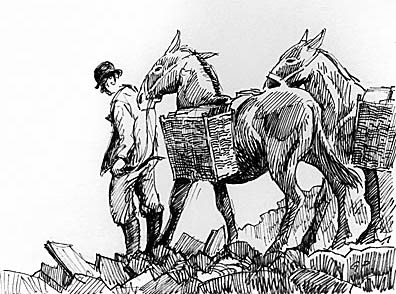 The idea of constructing a tramway from Blaenau Ffestiniog to Porthmadog was broached many years before it reached fruition. The industry at Ffestiniog  did not develop as rapidly as at Penrhyn and Dinorwig. As late as 1825 there were only three important quarries in production at Ffestiniog.  Plans to construct a tramway were mooted as early as 1825, but the dream of a railway was not realised until 1836. 
The Padarn tramway for Dinorwig Quarry was completed in 1843, and the railways to Porth Penrhyn and Y Felinheli were completed by 1852.  Of course, with the extension of the national rail network the tonnage of slates carried on the railways increased greatly.
Before the construction of the tramway at Dinorwig, boats were used on Llyn Padarn to carry slate since at least the middle of the eighteenth century. By 1789 it is estimated that there were between 16 and 20 boats involved in the slate trade between the quarry and Penllyn and Cwm y Glo. The remains of one of these boats was discovered by divers in 1977 with its load of slate still on board. She sank sometime between 1788 and 1824.
The Ffestiniog railway was opened in 1836 with a 2 foot gauge using horse and gravity. Prior to this the slate was taken to quays on the river Dwyryd, downstream of Maentwrog by cart, on the backs of animals and even men. Women were often employed to lead the horses or mules. The new port of Porthmadog developed as a major slate exporting port and the railway turned to steam in 1863. The long decline of the slate industry led to the decline of the railway, and led to its closure in the years following the 1939-45 war. The Ffestiniog Railway Preservation Society, set up in 1954, which ultimately saw complete restoration of the line from Blaenau Ffestiniog to Porthmadog.  
However, with the subsequent decline of the rail industry slate loads are today carried by road. The internal railways were also removed and today lorries and dumpers are used instead.