Quarry Proprietors - The Penrhyn Dynasty
Slaves, Sugar and Slate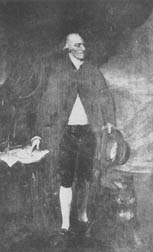 It was Richard Pennant, (1737? -1808), pictured right,  who first set the industry on its entrepreneurial phase. Though of Flintshire lineage, Richard Pennant was a Liverpool merchant prince who founded his fortune on the slave trade and inherited estates in Jamaica. On December 6, 1765 he married Ann Susannah, daughter and heiress of General Hugh Warburton (1695-1771) who held part of the moiety of the Penrhyn estate. In 1783, he was raised to the peerage of the Kingdom of Ireland as Baron Penrhyn of Penrhyn in the County of Louth. Holding an Irish peerage, he was not disqualified from sitting in the House of Commons, which he did. This is a brilliant example of the political intrigues that were prevalent in those times. He sat as member for Peterfield from 1761-1767, for Liverpool from 1768-1780 and again for Liverpool from 1785-1790.
He employed as his steward William Williams*, (1738-1817), pictured lower right, to whom must be given the credit for suggesting the development of galleries in the Penrhyn Quarry to Pennant. William Williams ran the quarry on a purely capitalistic basis, thus changing permanently the infrastructure of the industry. Before his retirement on a pension in 1803 from an indebted Lord Penrhyn, he was to administer efficiently the modes of production, exporting and the selling of slate among many other responsibilities. His contribution cannot be ignored.

* See Dafydd Glyn Jones' book,  Un o Wyr y Medra - Bywyd a gwaith William Williams, Llandygai (1999)
'Castle' building
On Lord Penrhyn's death in 1808, and his widow in 1816, the Penrhyn estate descended to George Hay Dawkins (1763-1840), his cousin, who inherited not only the whole of the Penrhyn estate, but also the Jamaica plantations and the wealth that came with them. He not only started expanding the estate by purchasing various parcels of land, but also by the buying of most of the hotels in the city of Bangor. Also, between 1821 and 1836, he was responsible for the building of the present Castell Penrhyn to the designs of Thomas Hooper.
The Penrhyn Dynasty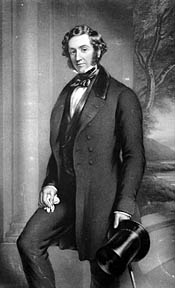 On his death in 1840 he had named his daughter, Juliana, as heiress to all his properties and his son in law, Colonel Edward Gordon Douglas (1800-86), pictured right, as the second in line to the succession so long as they assumed the surname and arms of Pennant, to which they readily agreed. Two years later, she died at Pisa, and her widowed husband inherited. From 1841-1865 he represented the county of Caernarfonshire in Parliament. He was a very energetic landowner who extended the estate not only in Wales, but also by purchases in England. By 1871, he had the largest rental in the county. He entertained Victoria at Penrhyn in 1859 and was raised to the Peerage of the 'United Kingdom' in 1866 as Baron Penrhyn of Llandegai. His son was elected unopposed to his seat in the House of Commons. On his death in 1886, he was succeeded as owner of Castell Penrhyn, the Penrhyn estate, the Penrhyn quarry, Wicken Park as well as the plantations on Jamaica, by his oldest son, George Sholto Gordon Douglas-Pennant, (1836-1907.)
There is an anecdotal story told by W.J. Parry, (1842-1927) regarding an incident during the 1865, which is probably a key fact to the character of the second Lord Penrhyn.

Suddenly I heard Colonel Pennant call me, -"Parry, come back. Call the men back…tell them this is my son and heir, George" After I had translated, he added, "Tell them to beware not to offend George, for if they do, he will never forgive; he can never forgive." After I had translated, he added, -"It is so George, is it not? He looked over his shoulder, and without turning round said, -"Let them try, and they will see"… This one fact hid so many of his virtues.

(Hanes fy Mywyd a'm Gwaith, W.J. Parry.)
Born in 1836, George Sholto Gordon Douglas-Pennant inherited the parliamentary seat for the County of Caernarfon, vacated when his father was raised to the peerage. Two years later, he lost it to the Liberal cause. He retrieved the seat in 1874 only to lose again in 1880. From all accounts he was an excellent landowner but his relations with his quarrymen degenerated into industrial disputes, culminating in the terrible strike of 1900-03. He regarded that any threat to his authority had to be met head on.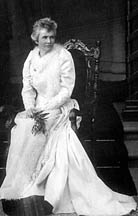 The financial empire managed from Castell Penrhyn was immense. Not only was he the third biggest landowner in Wales but was also the owner of one of the largest slate quarries. His profits of £133,000 from the quarry in 1899 were twice as big as his rentals. In 1890 Carmen Sylva, pictured right, Queen of Romania stayed at the castle and planted a tree to mark the occasion. Four years later, Albert Edward, Prince of Wales stayed there with his wife and daughters on their foray to the National Eisteddfod, held that year at Caernarfon.
Dying in 1907, the squire of Penrhyn was succeeded by his son Edward Sholto Douglas-Pennant, 1864-1927 (third Baron Penrhyn of Llandygai). Outlying parts of the estate began to be sold off to pay death duties in 1907, and more sales took place in 1910, 1912 and 1925. Hugh Napier Douglas-Pennant, (1894-1949) thus inherited a smaller estate. Death duties also forced him to sell property. The Jamaica estates were sold in 1933 followed by more property in Caernarfonshire in 1939. On his death in 1949, the title and estate were split. His niece, Lady Janet Douglas Pennant (1923-97) inherited Castell Penrhyn, the quarry and the estate. Two years later she reached an agreement with the Treasury by which Castell Penrhyn and a large part of the estate were transferred to them in lieu of death duties. In turn, the Treasury transferred them to the National Trust. Separating the quarry and estate interests in the same year, a limited company was formed to run the quarry. In 1973 she sold her remaining fifty one per cent shareholding in the company and the link between the Penrhyn family and the quarry were severed.