Quarry Proprietors - The Faenol Dynasty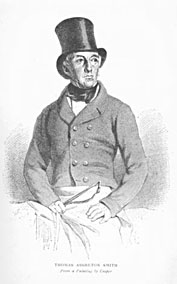 The Faenol estate developed from the Crown manor of Dinorwig, and was leased in the sixteenth century to a member of the Cochwillan. By the death of Sir William Williams in 1696, and he being childless, he ceded the whole estate to the Crown! Sometime before 1723, the Crown granted the reversion of the estate to John Smith, of Tedworth, Hampshire. His family taking possession in 1756. Eight years later, William Smith left Tedworth and Faenol to his nephew, Thomas Assheton (right) of Ashley, Cheshire, who took the name Smith in 1774.
Penrhyn set the pace with slate quarrying, of that there is no doubt. It was not until 1809 that Thomas Assheton Smith (1752-1828) took over the running of the Dinorwig Quarry himself. Indeed, it is important to note the friendship that existed between him and George Hay Dawkins Pennant of Penrhyn, both men being members of the Menai Pitt Club. Following Lord Penrhyn and Sir Watkin Williams-Wynn, he was the third largest landowner in Gwynedd, with acreage of 34,000. The annual income from this rental was around £42,000. But the major part of his income came from the Dinorwig Quarry, which by 1806 was exporting 20,000 tons of slate. Though at first, his father was much more interested in his English estates, and as late as1792, Faenol was described as once the mansion of conviviality and mirth, now the neglected seat of A. Smith, Esq.' However, Thomas Assheton Smith had realised the that not only was Faenol of political importance, (holding the county seat from 1774-80 and being elected High Sheriff for 1783-84) but also that the 'tracts of bogs and rocks' as one of his ancestors had called it, did also have some economic possibilities.
From 1778 farms were let on long leases with restrictive clauses to give more security to the tenant and encourage better husbandry. From 1796 he sat for Andover, Hampshire. It was the slate quarrying industry that was the jewel in the crown and not agriculture. (The pioneering in Welsh Black Pedigree breeding was to come a century later.) Thanks primarily to his support, a scheme to bridge the Menai Strait was thwarted in 1801, and despite violent opposition, when Thomas Assheton Smith had to call for a cavalry unit to protect his interests and quell the rioting, he succeeded in adding 2,692 acres to his estate by enclosing the Common at Llanddeiniolen in 1809.
I'll be damned if I ever cross that bridge…
He was succeeded by his son Thomas (1776-1858). He was born in London in 1776, and educated at Eton, where he gained fame as a noted pugilist. It was there that he developed a firm belief in 'fagging, firmly believing that if you 'thrash a boy when young he most probably will not need it when grown up.' However he did benefit in obtaining a sound knowledge of the classics there, before going to Oxford in 1794. Hunting was his bread and butter even before then, and he held the mastership of the Leicestershire Hounds from 1806-1816. During this time he bought one pack of hounds that cost him a thousand guineas. In 1827, he married the daughter of William Webber of Binfield Lodge, Berkshire. On the death of his father the following year, he had the house and stables at Tedworth built to his own plans. A dyed in the wool Tory like his father, he was a member of the Menai Pitt Club and served as President in 1824 and 1830. As his father before him, he was violently opposed to building any bridge over the Menai Strait, and vowed never to use it, choosing to cross by boat for the rest of his life. Maybe it was fortunate he was very interested in yachting.
All mod cons at home
He was completely devoted to his sovereign, naming the Victoria Hotel at Llanberis after her as well as the special green slate that was produced at the Dinorwig Quarry. He even named his first steam yacht Fire Queen as a tribute to the widow of Windsor. Indeed, his first steam yacht, the 'Menai,' built in 1829 cost a cool £20,000. He was very interested in mechanics, and designed a railway system at his houses at London, Tedworth and Faenol, which worked on gravity to take dishes to and from the kitchens to the dining room. He also had a firm belief in his own cure for seediness, that of plunging one's head in cold water first thing in the morning and keeping it submerged for as long as possible. Quack cures or not, when at Faenol every summer he would visit the harbour office at Y Felinheli (Port Dinorwic) every morning to check the books. In 1856, his quarry at Dinorwig made a clear profit of £30,000, which was double his rental from landed property. He was also a strict Sabbatarian and would never use a carriage for going to church. He died in 1858 at Faenol and was buried at Tedworth. There were no children from the marriage and was succeeded by his great nephew, George William Duff (1848-1904.)
Mine is mine
He was educated at Eton and Oxford, and on his coming of age in 1869 assumed the additional name of Assheton-Smith. Festivities lasted for a whole week. A marquee was erected at Faenol, luncheons, dinners and ball were held, the tenantry raced and celebrated, and fireworks were set off every evening. G.W.D. Assheton-Smith was not much interested in public life apart from hunting and sailing his yacht, Pandora. He was pricked as Sheriff of Anglesey in 1872 and as Sheriff of Caernarfonshire in 1878. In 1888, he married Laura Alice Stanhope Jones, from Tilston, Cheshire. In order to celebrate this fact he returned half of his agricultural rental that year to his tenantry. Being a Conservative in politics, Lord Salisbury, the Prime minister, stayed at Faenol when he visited Caernarfon in March 1888. Members of the Royal Family also stayed at Faenol in their turn.
When Victoria celebrated her Diamond Jubilee in 1897, Assheton-Smith also paid the train fare for all his workers and their wives to spend four days at the Metropolis, as well as giving each worker a crown (25p) to spend. But that was not enough, since Jubilee Hill was planted, that is trees and shrubs to form not only the word JUBILEE, but also his initials and the year. For many years he had a zoo at Faenol of exotic and dangerous animals but by 1900 had disposed of them, except for the cattle, deer and bison that grazed the lush pastures of the park. He also spent around £307,000 on improving the estate. In 1904, it measured 36,000 acres with 1,600 tenants and he often boasted that he could walk the fifteen miles from Faenol to the peak of Snowdon without once having to step off his property.
Style at all costs
Faenol was inherited in 1904 by his brother Charles Garden Duff (1851-1914). Educated at Harrow, he lived for very many years before 1904 at Trefarthen, near Brynsiencyn, more or less opposite to Faenol. Quiet by nature, he was High Sheriff of Anglesey in 1885 and his only passion was horse racing. Indeed, he won the Grand National three times; in 1893 with Cloister, in 1912 with Jerry M and in 1913 with Covercoat. But he had to sell off outlying parts of the estate in 1907, following the same pattern as was happening at Penrhyn. He was pricked as High Sheriff of Caernarfonshire in 1908, and fifteen of his tallest quarrymen, resplendent in uniform and carrying pikes formed the escort as he rode in a specially built coach at the opening of the Assizes at Caernarfon that year. Silver plate and an illuminated address were presented to him in 1912 by the quarrymen to celebrate his elevation to a baronetcy. He died at Claridge's, London at the end of September 1914.
Over by Christmas
Richard George William Duff (1876-1914) inherited the estate. Like so many of his class he was just waiting to have a 'swipe at Harry Hun' and 'march into Berlin before Christmas.' Consequently, he rejoined his regiment, the 2nd Life Guards and crossed over to France on October 6th. He was killed before the end of the month in the chaos of the retreat from Mons.
The end of the line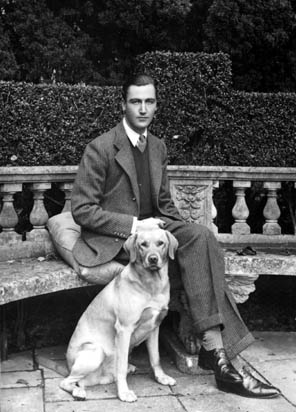 His only son, Michael Robert William Duff (1907-80), right, inherited. Further parts of the estate had to be sold off in 1919. This follows the economic pattern of the times that had an effect on great estates in general. On reaching his maturity in 1928, he assumed the additional surname of Assheton-Smith, only to renounce it again in 1945. He served as Mayor of Caernarfon, High Sheriff and Lord Lieutenant of both Caernarfonshire and of Gwynedd. With the closure and sale of the Dinorwig Quarry, and the sale of the rest of the estate on his death, the family links were extinct.