Quarry Proprietors - The Meirionnydd Quarries
Down in Meirionnydd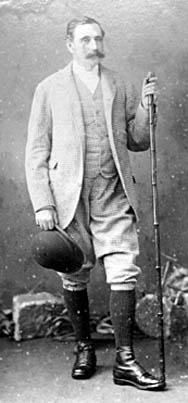 The slate owners in Meirionydd are on the whole composed of adventuring entrepreneurs from England rather than local landowners. For instance, R. J. Lloyd Price (1842-1923) of Rhiwlas opened Chwarel Clettwr in 1903. But the main landed family to have quarrying interests in Meirionydd were the Oakeley family of Plas Tanybwlch.
The Oakeley Dynasty
When Robert Griffith (1715-50) died, his lands stretched from Pwllheli to Llanegryn. His son, Evan Griffith, inherited all his possessions, and his only child, Margaret Griffith, married William Oakeley (1750-1811) of Forton, Staffordshire in 1789. He was known as Oakeley Fawr [the Big Oakeley]. He entered into partnership with Thomas Assheton Smith and others in 1809 to run the Dinorwig Quarry, Llanberis. Oakeley Mawr rebuilt the stables at Tanybwlch, as well as the church at Maentwrog. He also built a new road from Maentwrog to Harlech, as well as reclaiming a great deal of land from the sea. He was followed by his son, William Griffith Oakeley (1790-1835), who in 1824-25 alone would receive royalties of twenty five thousand pounds as his one-tenth share of the profits earned by the selling of slate that year. And yet, it appears that he was also strapped for cash, because in 1832 he was forced to sell a great deal of land. Indeed, it could have been the law action he got involved in with Nathan Meyer Rothschild and the Crown, over the mining rights at Rhiwbryfdir, and the subsequent removal of the action from Bala to London, that was responsible for this sale. There were no children from his marriage, and his heir was his nephew, William Edward Oakeley(1831-1912), pictured above. He was educated at Eton and Oxford before marrying in 1860. However, he did not get his hands on the Tanybwlch estate until 1868, and only then under very interesting circumstances.
It's mine, it's all mine and I want it
It was his aunt, Louisa Jane Oakeley who had responsibility for the estate not only during the minority of her son but afterwards, indeed until 1868. She was not an easy lady to handle, and by the 1860's had turned into a recluse to all purposes. She would not even answer or acknowledge any letter sent to her by her nephew, William Edward Oakeley. Further more, the slate business was crying out for much needed attention. Then Louisa disappeared from Plas Tanybwlch and ended up staying in a hotel at Shrewsbury with her maid. William Edward decided to press his claims and employed a doctor to diagnose the state of Louisa's mental health. According to him she was normal. The end of the matter was that she was asked simply to transfer the inheritance to her nephew, to which she agreed readily!
Developing and entrenchment
He rebuilt the Plas, took firm control of the quarrying side, built new houses in Maentwrog village, as well as a new church and a new school both at Maentwrog and Ty Nant. He served as High Sheriff for the county in 1874 and was deputy lieutenant, a justice of the peace, and both a member and alderman of the Meirionydd County Council. He undertook the running of Holland and Rhiwbryfdir Quarries and from 1878 until 1882 was solely responsible for the quarry administration. In that year, the Oakeley Company was formed under his chairmanship. More quarries were taken over including that of Cwm Orthin in 1900.
Spend, spend, and spend
But appearances can be deceptive. It was one thing to take over quarries, but capital was also required to run them. The fly in the ointment was that Oakeley had to borrow sixty thousand pounds (about six million at today's value) for this express purpose. But the rub was that the quarries taken over did not produce enough slate to sell to pay the interest on the loans. By the start of the twentieth century the situation was pressing evermore especially when the quarry income fell from thirty two thousand pounds in 1900 to only sixteen thousand pounds in 1904, the last year the family lived at the Plas. 'Teddy', the heir, was not perturbed in the least and was still spending money like water on racing and at his club in London. The situation was untenable and the estate was auctioned in 1910. However, only one or two farms were sold in the end.
Going…going…gone
Edward de Clifford William Oakeley, (1864-1919) inherited Tanybwlch in 1912, which was sold to his niece Margaret Inge two years later. She however died within a few months of her uncle in 1919 when her sister Hilda Inge inherited. On her death in 1953 the estate reverted to her mother, Mary Caroline Inge, (1865-1961.) Tanybwlch was sold the following year and the links with the Oakeley family were severed. One by one the quarries closed culminating in the closure of the Oakeley Quarry itself in 1971.