Building techniques
Laying Roof Slates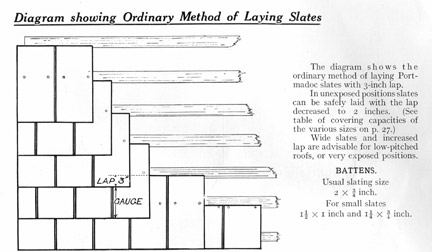 The above diagram shows the ordinary method of laying slates with a 3-inch (7.62cm) lap.  In unexposed positions slates can safely be laid with the lap decreased to 2 inches (5.08cm).  
Wide slates and increased lap are advisable for low-pitched roofs, or very exposed positions.


Battens

Usual slating size: 2 x ¾ inch(1.91cm).
For small slates: 1½ inch (3.81cm) x 1inch (2.54cm) and 1¾ inches (4.44cm) x ¾inches (1.91cm)

Cwt-y-Bugail Quarry Booklet: The Architects' Guide to Natural Slate Roofing

Please Note: Roofing regulations may have changed since the above publication was produced in the mid 1990s, and new regulations have been introduced.