Pay, Strikes and Living Conditions - W. J. Parry
'Quarryman's Champion.' – William John Parry?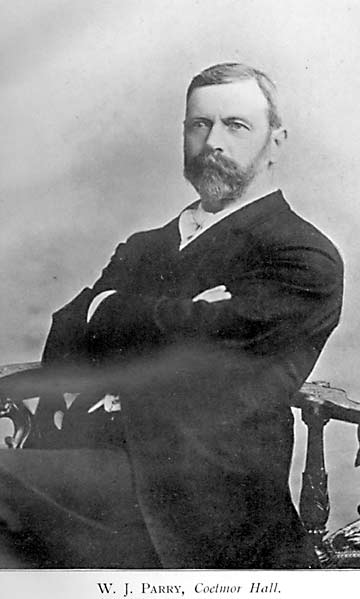 This was the name given to William John Parry (1842-1927) of Bethesda. Born to John and Elizabeth Parry, of  58 High Street, Bethesda, both of whom were originally from Anglesey. Educated at Llanrwst Grammar School from 1850, between 1857 and 1863 he worked at solicitors and accountant's offices at both Bangor and Caernarfon. Even before the death of his mother in 1864 he was all ready entering public life in cultural, religious and political fields.

For five years up to 1868 he was secretary of the Bethesda Cymreigyddion Society, being involved with eisteddfodau and concerts. Over the years he also published many books. Elected a deacon at Bethesda Chapel in 1866, the following year saw him sitting also on the Local Board. He was also appointed Liberal agent for the Arfon Constituency in 1863, a post he held until 1879. In 1871 and 1879 he paid visits to the U.S.A, sending back a valuable report of the quarry industry in the state of Pennsylvania. He also served as auditor of the University College of Wales, Bangor for forty years and was a benefactor to the library.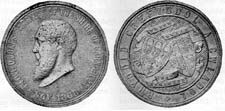 The medal that was produced to commemorate the victory of Love Jones-Parry for the Liberals in the Arfon constituency in 1868 can be seen on the right.
Political and labour activities. 
Having played a vital part in securing the Pennant Lloyd Agreement and the founding of the N.W.Q.U in 1874, he served as secretary until 1876, and from that year until 1898 held the post of Union Umpire. Elected Union President in 1877 and again from 1881-89, he also involved in the founding of two radical newspapers, Y Werin, serving as editor from 1875-77, and Y Genedl Gymreig, to which he served again as editor from 1877-79.
 Parry and the Strikes of 1896-97 and 1900-03.
He was blamed together with W.J. Williams, the general secretary for agreeing to the terms set out by Penrhyn and E.A. Young. The former was manoeuvred out of power in the same year, whilst Parry resigned his post in 1898. But he once again got involved during the Great Strike, when despite his natural cunning he became unstuck in 1903 in the famous libel case against Lord Penrhyn. Penrhyn won and had the all the printed transcripts firmly bound in red leather for posterity.
However by late 1902 and early 1903, his stock with union members was clearly in decline. Breaking with the official Liberals, he was drawn evermore so into Labour and Trade Union Movements with a strong bias towards Home Rule for Wales. He about turned in 1914, returning to the Liberal cause and was given a very belated honour, the CBE in 1918 for services to the party.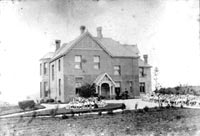 Remaining active to the end of his life, he was a lonely and embittered old man when he died in 1927. His home, Coetmor, right,  had been a hive of political, cultural and religious activities during his hey day, but a new generation had now grown up. His comrades of the old battles were long dead and the new generation were highly suspicious of him because of his clinging to the remains of a discredited Liberal party. They believed that it was the Labour party that would carry their cause to final triumph.