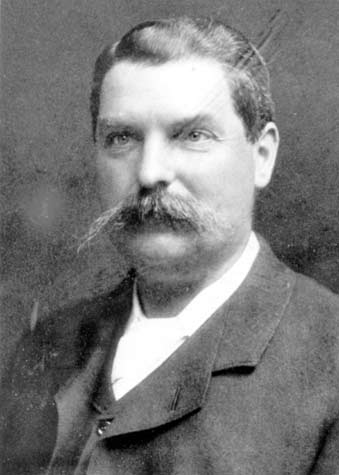 Born in Brixton, London as one of five children, Emilius Alexander Young was trained as a hard-headed accountant and was hand picked as an accountant of the quarry by Lord Penrhyn himself. Under Arthur Wyatt the quarry was not a picture of efficiency, and on his resignation, Young took over his duties. In September 1887, J.J. Evans resigned as executive manager and Young was appointed General Manager. 
In order to clear the tons of slate that had piled up on the quays at Porth Penrhyn, he set out to seek new markets, travelling extensively himself. His motto was efficiency and in order to achieve this every outmoded working practice had to be swept away. Neither did he hold any truck with unionism in whatever form. In this, both he and his master were in full agreement. Indeed, Penrhyn was quite happy to leave the whole concern in Young's hands, and increasingly spent more and more time at his mansion at Wicken or at Mortimer House, London. 
An often heard story in Bethesda at the time was that the financial state of the quarry was so parlous by 1886 that Turquand & Young lent vast sums of money to the second Lord Penrhyn and that E.A. Young was determined to recoup every farthing with as much interest as possible. Could part of Young's terms of employment have been that the running of the quarry was vested in his hands on Lord Penrhyn's behalf? Could this explain, that apart from one instance, every poster from the quarry office from 1886 onwards (apart from one) has Young's name at the bottom? Prior to 1886, every poster was signed Penrhyn. 
Another interesting fact was that on the death of the estate agent, Sackville-West in 1889, all his shipping interests went to Young rather than to the second lord. Young now owned five steamers and one three-masted schooner and had a stranglehold on the slate trade in and out of Porth Penrhyn, by ensuring that his ships had priority at all times. On his death in 1910, these interests were inherited by his widow, two of his sons and probably his son-in-law. These interests were sold to the third Lord Penrhyn in 1911.
Living at Tan-y-bryn, in a completely English-speaking cocoon, he employed seven servants, as well as a nurse and under nurse to look after his children. Indeed, Tanybryn was more anglicised than Penrhyn Castle. He was full of good works towards nursing associations and health matters in the area, including the quarry hospital. He was also a warm supporter of all church matters as well as the North Wales Training College. He arranged many concerts and contributed greatly to enable the Penrhyn Male Voice Choir to compete at the Chicago World Fair in 1893. Even though the choir only came second, Young presented every member with a framed photo of himself on their return.
One wonders how many if any survived the Great Strike?