Pay, Strikes and Living Conditions - 1900-1903 Strike 
The Great Strike 1900-03
 
The general manager, E.A. Young, announced that henceforth no union dues were to be collected at the quarry.
The cauldron began to bubble violently. It finally boiled over on October 26th, 1900, in violence against a number of contractors. Penrhyn decided to prosecute 26 of his employees, even before they appeared before the magistrates.
All the men marched to Bangor to support the 26 at their trial. Everyone was suspended for fourteen days. The first hearing was adjourned, and the workforce all marched to Bangor for the second hearing. Of the 26 accused, only 6 were convicted and fined. The Chief Constable of the County called in military forces and was condemned by various public bodies as well as his own County Council. The men went back to work on November 19th, but 8 galleries were not let out to be worked. Two days later their suspicions had increased even more. On November 22nd, everybody turned up at the quarry but no work was done. Sometime during that fateful morning E.A. Young telephoned the quarry with a message to the men to go on working or leave the quarry quietly.  The men walked out. The uneasy truce of 1897-1900 was over. The Great Strike of 1900-03 had started. Things would never be the same again.
Ups and downs
By December 22nd, Young had terms which were 'relaxed'. But as was observed in the Daily News, Heaven save our worst enemies from the infliction of the originals. Voting papers were duly sent out, which required every voter to sign the paper and note his address. And Young of all people had the gall to complain of this, stating that the information obtained could be used to form a blacklist! 77 voted for the terms and 1,707 against them. By mid January, the closure was complete with workers from Porth Penrhyn being dismissed.
An unusual gift to 'Desolate Bethesda.'
Relief had already started pouring in, both monetary and, unexpectedly, in the form of 2½ tons of plum pudding from a firm in Ashton-under-Lyne. This gift remained in the memory for years. As the children still sang a decade after. 
We had in Bethesda
The best pudding there ever was,
Neither Young nor Lord Penrhyn
Knew of it before it came.
It was a black coloured pudding,
The best any living being has tasted.

(trans)
By March, hundreds of the men left the area, as far away as southern Wales in many cases, leaving the women and children on diets of dry bread and tea. Weekly reports began appearing in the Clarion of the sad state of things in Desolate Bethesda and the surrounding area.
At a mass meeting in Bethesda on April 9th, Ben Tillett openly blamed all the suffering on Lord Penrhyn, describing him as a cross between Pharaoh and Nero, and telling them not to blame Young who was only Lord Penrhyn's jackal in this matter. Over the months that view was to change, and since it was 'E.A. Young' that appeared on every poster released from the quarry authorities, he became the one man everybody loved to hate. 
Re-opening the quarry
By the beginning of May, plans were in hand to re open the quarry. Lord Penrhyn might have been immensely rich, but a closed quarry was doing even his finances no good. Indeed, as recent research has revealed, financially he was quite damaged by 1903. The long awaited poster was released by Young on May 20th, stating that the quarry would re-open on June 11th to all late employees who had applied to the office and been accepted. Furthermore, police protection would be provided. In doing the vetting, Young did the work himself, being fed information from spies. The practice of 1896-97 was in full use again! Wages were increased by 5%. On leaving the quarry on that first day every one of the 650 workmen was given a gold sovereign, courtesy of Lord Penrhyn. This was the infamous Punt y Gynffon soon to be vilified in both cartoon and song. In a turbulent meeting of the strikers that evening, it was decided that posters bearing the words: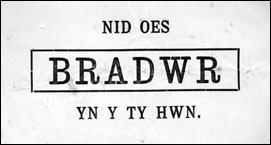 Nid Oes Bradwr yn y Ty Hwn [There is no traitor in this house] be printed and shown in a window in every striker's house. Bethesda and the area had now been plunged into Civil War. When a poster was removed from a window, everyone knew that someone else was returning to the quarry. Indeed, lists of the 'bradwyr' together with their addresses were printed in newspapers such as Y Werin and Yr Eco for all to read in June 1901.
Women in the strike
Discovering the role that women played during the Great Strike is not easy, but the minute books of the Bangor Petty Sessions do give us tantalising glimpses. On July 23rd, 1901, a reference is made to an incident three days earlier of:
Hundreds of people - young women paraded up and down the streets behaving badly.
It appears that the only action brought against any woman from Bethesda was that against Ellen Jane Williams. She was accused of being part of a crowd of 250-300 people on August 15th, 1901, and that she shouted 'Bradwrs, Cynffonwrs, Merch cynffon ydi hi' at Anne, Jane and John Pritchard, children of John Pritchard, a quarryman who lived at Penybryn. But he was also a quarry man who had returned to work. He was regarded as a Bradwr [Traitor]. Ellen Jane was fined 20/- (£1.00) and costs. One of the justices sitting on the bench was W.J. Parry.
It is also probable that it was hardship that drove two women from Bethesda before the Bench. Margaret Morris was accused on February 3rd, 1901, of prostitution in Farrar Road, Bangor. She charged 3d. On being found guilty she was sentenced to 14 days imprisonment.
Catherine Roberts was also from Bethesda, who was also found guilty of a similar offence on September 5th, 1901. She charged 1/-. She was similarly sentenced.
The Cartoons
Newly discovered cartoons from the pen of J.R. Lloyd Hughes of Papur Pawb give a new insight into the dispute.

The Aftermath
One by one, and quite arbitrarily, some were taken back. By the end of the year, Bethesda was indeed desolate. No work, no union, no fund… The Saturday market had closed, poverty grew, and fever shut the schools. Men still trickled back, but 1,000 were never to return. The dispute had taken its toll on Bethesda and the whole slate industry. With the quarry being closed for three years, outside markets took advantage. Everybody suffered. The dispute hit Lord Penrhyn's finances and stringent economies had to be made. Lord Penrhyn and E.A. Young's health declined. Lord Penrhyn died in 1907 and Young in 1910. Eight years later, the quarry owners accepted the Union in the quarries. Bethesda was never the same again, and suffered hardship through the Great War and into the years of the Great Depression.
A 'bradwr' - traitor

There (in Glanogwen Cemetery) was my father's grave, the white railings around it rusting and the weeds clawing through the wire netting that guarded the glass case protecting the artificial flowers. Thos must have been on the grave since the day of the funeral so long ago. Sometimes I would make a pilgrimage to the grave in the furthest part…and with a serious expression on my face read the mossy inscription on the slate. IN MEMORY OF JOHN PRITCHARD WHO WAS KILLED IN AN ACCIDENT AT THE PENRHYN QUARRY APRIL 4TH 1905. IN THE MIDDLE OF LIFE WE ARE IN DEATH. Then, I would look behind the smooth stone. Somebody at once upon a time painted three or four circles with coal tar and brush on the back of the stone. I often wondered about this but without saying anything or asking anybody about this….

'Tell me,' John Jones…'was my father a 'bradwr ?' 

John Jones stood tall with flashing eyes. 'Heaven above, no,' he said. Your father and me were up there at Ty'n y Maes with pick and shovel breaking mettaling rather than go back Don't you listen to any such foolish nonsense.'

One Sunday morning a long time after this, my brother Hywel and I were sitting in a hotel in Bangor reminiscing over a bottle of Scotch…I then told my brother the story about John Jones and sacked him, as he was four years older than me: 'Was Tada a Bradwr?' Hywel peered into his glass for a minute and then said sadly and quietly: 'Yes.'



(Afal Drwg Adda, Caradog Prichard, 12-13 trans.)

The quarry office at Porth Penrhyn was closed in April 1967 and piles of documents and account books were burnt. One worker 'rescued' one document from the flames, a document that has not seen the light of day for a century. The original (in Welsh) has not survived, but it originally hung up outside the Douglas Arms Hotel, Bethesda, at the beginning of August, 1902. The original document was translated into English and typewritten.
But this document is full of allegations, many of which are difficult to trace properly today. These allegations are specifically against Henry Jones, chairman of the strike committee, and Griffith Edwards, the secretary. It is clear that it is a reaction to the stormy meeting held at the end of July that year. It consequently shows that there was a body of strikers who were not supportive of the actions of their leaders. This group held the opinion by then, that staying out any longer was pointless.
Opposition to the strike

It is time for us quarrymen to know clearly what is our fate, and so, will the committee answer what follows.
·
So as to be allowed to vote fairly for workmen, will Mr W.H. Williams urge voting by ballot?
·
Will Henry Jones explain his pretensions to "lifting the curtain?"
·
Had Henry Jones a prominent share in abolishing the Agreement in the time of Owens the clerk?
·
Is it because that he failed to get an office that Henry Jones turned his back on the Blaid Fain?*
·
Does being members of the Committee pay Henry Jones, Griffith Edwards and others better than working?
·
Would it not be better for the Committee to resign so as to select more suitable men?
 
Would it not be better for the Committee to make an application to Lord Penrhyn based on the terms offered in 1900?
 
Is it not time to put the rope of the curtain round the necks of Henry Jones and Griffith Edwards?




Let us do it earnestly tonight boys
 
I am,

"One suffering for want of food"
 

August 1902.
(*Blaid Fain could be a nickname for the Tory Party.)