Pay, Strikes and Living Conditions - W. J. Williams
William John Williams, (1839-1897) Second Secretary of the Union.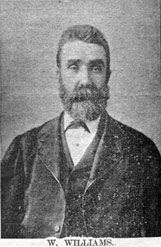 A quarryman's son, born in 1839 he started work at the quarry when he was 10 years old. To put it simply, the rubble heap had been his school and the quarry his college. He decided to leave the quarry though, spending a year as Carneddi School before going to the Bangor Normal College for two years. He was then appointed to Bethel School where he taught for 14 years, then becoming general secretary of the union. Never a popular figure with the workers, feeling hardened against him even more after the acceptance of the 1897 terms. It did not help the situation that he ran the union from his own office as an accountant as well.
The idea of combining the posts of Union Organiser and General Secretary to form a new post of General Secretary was first mooted by the Ffestiniog Lodge. It was actually a plan to get rid of W.J. Williams. When the members of Cae Braich y Cafn Lodge, at Penrhyn told him that they could no longer work with him, an election for a new secretary was held when W.H. Williams, (1848-1917) was chosen in his place. D.R. Daniel (1859-1931) remained in his post as Union Organiser.