Quarrying Techniques - Mechanisation: Yesterday and Today


Water and Steam Power
Mechanical techniques appear to have been introduced as far back as the 1820's. At Cilgwyn, for instance, horse whimsies, for raising slates, and winches were in use by 1827. The water balance was also introduced in 1829 to raise slate blocks up a vertical shaft at Tal-y-sarn. Steam power was first used as early as 1807 to keep Hafodlas Quarry free of water. Windmills were not unknown either at this time. Steam took some time to supplant the power of water itself as a source to drive machinery. Steam power began to be used in some of the Ffestiniog quarries by the 1850's and 1860's, even though some, like Llechwedd Quarry, still had complicated workings with small and large waterwheels still in use and no steam power whatsoever. The Nantlle Quarries were using steam by 1864, with the impressive Holman Beam engine at Dorothea being installed in 1904. Candles were used to light underground workings everywhere. 
Electricity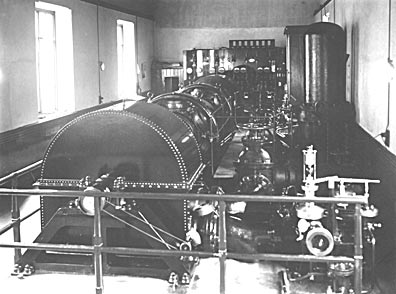 A very important development happened at Llechwedd in 1890 when electricity was introduced at the instigation of the manager, Warren Roberts, an engineer, and using waterpower to drive the dynamos. Within a decade, other quarries in the same area had followed suit. The Croesor Quarries also began using electricity soon after 1901, not only to drive machinery but also a 30hp electric mine locomotive in a main mining tunnel.
Pneumatic Drills
However, the open quarries lagged behind in introducing modern methods. Drilling was still carried out at Penrhyn in 1912, and the following year saw the introduction of pneumatic drills. More haulage gear was attached to many of the old gravity inclines as well. 
Petrol and diesel locomotives
The steam engines, introduced in the 1860's in the main, were also phased out with petrol and diesel locomotives being used from the 1930's onwards.