The History of Quarrying - The Industrial Revolution
Bethesda 
Richard Pennant, (1737? -1808) the first Lord Penrhyn,  inherited the estate on the death of his father. He secured leases from the Crown and from the Bishop of Bangor for building a quay at Port Penrhyn, (Aber Cegin). He also wondered whether slate could be used for roofing on his Jamaican estates. With his fifty-four leases called in, he took the whole workings into his own hand as a single undertaking. At least twelve ship loads a month were sailing to Liverpool, and others much further afield, not only supplying slates for roofing, but also large slabs for tombstones and smaller slabs for paving. To further facilitate the transport of the slate, a horse tramway was constructed from the Penrhyn Quarry to Port Penrhyn in 1801.
Disturbances at Caernarfon
On November 7th and 8th, 1800, around 150 quarrymen marched on Caernarfon and attacked the granary. By the end of January 1801, rumours were rife that there was a conspiracy afoot between the coal miners of Denbigh and Flint and the Bethesda quarrymen to attack various centres. It was also reported that 400 pikes had been produced in secret at the quarry in preparation for a rising. To cap it all, there was also a rumour that two spies were operating in certain areas of Anglesey and Caernarfonshire threatening clerics, justices and landowners.
A decision was made on January 26th to call in the military to keep the peace. This was a contentious issue in Caernarfon. A story was leaked that 400 quarrymen were about to attack the town. Consequently, dragoons were rushed in to Denbigh, Holywell and Caernarfon itself. 
In the meantime, at the start of February it was believed that the number of impending attackers from Bethesda had risen to 2,000.
Nothing of the kind happened and calls were made for the dragoons to be recalled by February 12th even though some leading townsmen were not happy with this. Consequently, the soldiers stayed on until the eighteenth of the month before departing.
Llanberis
On the Faenol estate in 1771 only small quarries worked by quarrymen who paid a nominal rent to the owner were in existence. Sixteen years later, two solicitors and their partner, Thomas Wright, Hugh Ellis and William Bridge, noted the affairs of Richard Pennant. The following year, 1788, saw the great Dinorwig Quarry (which incorporated some earlier quarries) coming into operation. The profits of the Penrhyn and the Dinorwig interests expanded greatly and in 1809 Thomas Assheton Smith (1752-1828), the owner took hold of the concern himself. However, the leasing or appropriation of common land was not popular. Quarrymen did not like giving up their individual rights to quarry. When Assheton Smith announced his intention to survey the common of Llanddeiniolen in 1809, violent opposition occurred. The Riot Act was read.
But, just as at Penrhyn, a tramway was also built to link the Dinorwig Quarry with the newly created Port Dinorwic (Y Felinheli today) in 1831.
Nantlle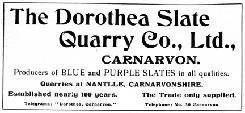 Developments at Nantlle took a similar turn, but with an interesting twist. During the early eighteenth century, the Crown had been very negligent with regards to its property and land. Sir John Wynn, (1701-74) of Glynllifon was given the right to dig for slates and minerals in the hills and commons of eight parishes. On his death, his son, Sir Thomas Wynn, the first Lord Newborough (d.1807) had his petition for the renewal of the lease refused. In the meantime, quarrymen were helping them selves to slate and were able to rival Penrhyn Quarry in their sales. A new Crown agent, Robert Roberts of Caernarfon was appointed in as superintendent of wastelands and commons in four of the parishes that had been leased by John Wynn as well as six others. Consequently he set about letting 'bargains', that is various areas of the site, to companies of quarrymen in 1791-92. When Thomas Wynn heard of this on his return, he set up a claim to the quarries in Cilgwyn, and through his agent, ordering the workmen to pay no more rent to the Crown Agent, as well as circulating a report that the Crown had no right whatsoever to any quarry at Cefn Du. The matter dragged on until April 1800 when the matter was at last partly settled as far as the Crown was concerned. The Cilgwyn and Cefn Du Slate Company was founded. Lord Newborough by backing the independent quarrymen vigorously and still challenging the rights of the Crown, and claiming for trespass, led to state of affairs that was to last intermittently for years, even as late as 1834. In the meantime, the quarry at Tal-y-sarn started production in 1802, Dorothea Quarry in 1829 and Fron Quarry in 1830.
The Thieves of Plas y Cilgwyn
Dorothea Quarry was bought in 1835 by an Englishman called Muskett. He spent heavily on new equipment to raise the waggons from the quarry bottom. But he overspent, and was declared bankrupt a few years later. The quarry was closed with three months wages owing to most of the workers. They consequently revolted and demolished the new house Muskett had built for himself - Plas y Cilgwyn.
A ballad was written about the occasion by a local poet called Richard Owen who did not support the action taken by the men.

Blaenau Ffestiniog
English capital made a greater contribution to the development of the slate mining industry in Meirionydd than in the remainder of Gwynedd. William Turner from Lancashire, together with the Hollands, the Cassons and the Greaves families, played a substantial part in the industry's development. The Diffwys Quarry dates back to c. 1765, Bowydd (1801) and Manod (1805), and the Oakeley Quarry which dates back to the early 1800s and eventually grew to be the largest slate mine in the world, with over 50 miles of underground tramways. William Turner who had a lease for the Clogwyn y Fuwch Quarry in the Conwy valley in the late 1790's, and was about to board a ship at Conwy, when he heard of quarrying activity at Diffwys, Blaenau Ffestiniog in 1799. Deciding to try his luck there, he soon got involved with William and Thomas Casson, another Seathwaite family. William Turner, William and Thomas Casson acquired the quarry for a bargain price of £1,000 after bidding privately. Subsequently, William Turner was superintending a long list of quarries. Samuel Holland senior (1768-1851), a Liverpool merchant, who was speculating at Cefn Du Quarry heard of the Rhiwbryfdir workings in 1818 and got a three-year takenote from W.G. Oakeley, of Tanybwlch. In 1821, the takenote was converted to a full lease, and Samuel Holland Junior was sent for to supervise the quarry for his father. The quarry at Rhiw flourished and was sold in 1825 to the Welsh Slate and Copper Company for £28,000.
The outbreak of war with France put a sharp break on the slate industry. The construction industry slumped, exports from Port Penrhyn alone were halved and a war tax on slates of 20% penalised the coastal trade. Business did recover after the Peace of Amiens was signed in 1801, and there was a further improvement following the Battle of Trafalgar in 1805. By 1809, slates were exported from Port Penrhyn to Boston, Massachusetts. 
The second Lord Newborough also had a quarry in the Ffestiniog area. This was Bowydd Quarry and had started operating in 1801. However, he invested little capital in it. It was taken over by his brother in 1823 and by John Roberts of Caernarfon by 1827. Seven years later, Edward Shelton and John Whitehead Greaves(1807-80), the third son of a Quaker banker, from Radford, Warwickshire took the quarry over. Greaves left home for Caernarfon in 1830, then a booming port for transatlantic passenger traffic and cargoes of slate, intending to sail to Canada. He changed his mind and entered into partnership with Shelton, a wealthy landowner from Worcestershire. They decided to take on another partner, William Griffith Oakeley, of Plas Tanybwlch. Twenty-one-year leases were signed in 1835 for Glynrhonwy, Bowydd, and Foty, (even though Foty had been in production prior to 1801). The following year, the Ffestiniog railway to Porthmadog was opened. Unfortunately, Shelton died in 1848 leaving Greaves with a cash flow problem, since the income he was receiving from Glynrhonwy was substantially less than what he was spending at Blaenau Ffestiniog. However, he succeeded in opening the Maenofferen Mine, and the following year, discovered the elusive Meirionydd Old Vein at Llechwedd.
Work began at Gloddfa Ganol in 1825. At Holland Quarry in the same year, a legal dispute arose as regards to ownership between the Crown and William Oakeley, in whose favour the courts found. The following year, the first Baron Rothschild started activity on Crown land at Moelwyn Quarry, and inclines were planned to Porthmadog should the working turn out a success. Work began at Cwt y Bugail in 1835.
Corris and Abergynolwyn
Quarrying also developed in the south of the county in the Corris area. There had been a quarry at Aberllefenni since around 1500 it is true, but quarrying started at Gaerwen in 1820, Braich Goch around 1830 and at Abergynolwyn about 1847. From 1865, slates were transported from this quarry on the Tal-y-llyn Railway. A railway for carrying slate was also built at Corris as well.
Anglesey Region
The slate quarrying industry in Anglesey was very small. Trefarthen Quarry near Brynsiencyn was part of the Faenol estate and was worked in the late 18th century. The small quarries on the boundary of Llangefni and Llangristiolus were part of the Baron Hill estate as were the quarry at Llanfflewyn and Bodegri.
Slates were being produced here in 1864. In 1875 a new lease was taken out with permission to build an engine house, storehouses, cottages, tramways, shafts, levels and adits. These dreams were never realised.
Llaneilian Quarry was part of the Llys Dulas estate and started production in February 1870 under a company formed and run by men from Manchester and Yorkshire. Even though the prospects were thought to be favourable by two quarrymen from Caernarfonshire, who were joined by John Hughes from the Dinorwig Quarry who was appointed manager, the dreams of riches were not realised.
The grandiose plan to create Porth Dinorben to export the slate was shelved as early as 1872 when it was decided to carry on using horse and cart to carry the slate to porth Eilian to be shipped out. A vein of copper was discovered in 1873 but by now no further customers could be found to buy shares. Not having land to build sheds to house slate working tools was also regarded as unsatisfactory. The paying of dividends also ceased.
Up to 1873, the ten quarrymen employed had produced:
1,940 slates of the best quality
480 second class slates
2,700 moss slates
By June 1875 the bank was very unhappy at the way things were and ordered that the company be wound up. But it allowed the directors a loan of £3,000. It was to no avail. Work ceased in June 1877 and the company was wound up in August 1878.

New towns and villages
All this activity had an immense effect on this remote area of Wales. Between 1800 and 1840, the populations of the quarrying areas doubled in some areas and trebled in others. New towns and villages came into existence. A group of Non-Conformist quarrymen built a chapel near their new working quarters, and called it 'Bethesda' after the healing waters of the Biblical pool. It was common practice to name chapels after Biblical places, and villages like, Ebenezer, Carmel, Saron, Nebo and Bethel came into being. Cottages, pubs and more chapels followed. By 1881, the parish of Llanllechid, which included Bethesda, had a population of 8,291 compared with only 1332 in 1801. Similarly, the parish of Ffestiniog had a population of 11,274 in 1881 compared to only 732 in 1801.
Boom time
Industrial output surges forward between 1831-82. With the population of Wales and England increasing from 8.8 million in 1801 to 29.9 million in 1881; and in spite of the building trade prospering and declining, average slate production for roofing rose.  The canal system of the British Isles was more or less complete. Freight charges fell, but this had no effect in north Wales where canals were practically nonexistent. Indeed up to 1844, when the Chester and Holyhead Railway was built, Wales was without a single railway connection. But with private company railways connecting quarries to the coast, ports like Porthmadog developed. The population of the parish of Ynys Cynhaiarn rose steadily from 525 in 1801 to 5,506 by 1881. Slate Tonnage from Ffestiniog to Porthmadog rose from 4,275 tons in 1836 to 12,426 tons in 1882. Indeed a journalist described Blaenau Ffestiniog in 1873 as 'a city of slate' with the mud on the roads even being 'a blue slaty colour.' 
By the same time, slate quarrying was also firmly established as an industry in the Llanberis area. The total number of workers employed at the Dinorwig Quarry alone had risen from 1,900 in 1843 to 2,850 in 1873. The original tramway became inadequate and a new line with a 4foot gauge was built along the shores of Llyn Padarn.  New workshops were built in 1870 for the quarry by the firm of De Winton, Caernarfon. There now existed four workshops facing each other forming a yard with a large clock placed above the entrance arch. At the far end was enclosed a water wheel to drive all the workshop machinery, which is only superseded in size by the Laxey Wheel on the Isle of Man. It worked until 1925 when a Pelton waterwheel was installed. There was even a casting furnace, for casting and replacing damaged or broken iron parts. 
This story was repeated in the Bethesda area, with the Penrhyn Quarry employing around 3,000 men in 1869 and producing an output of 93,000 tons, whilst by 1882, even though the quarry only employed 2,809 men, the output had risen to 111,166 tons, compared with 87,429 tons at Dinorwig.
Items in the Gallery and Resources may be very large for downloading please hold the cursor over the thumbnail image to check for file sizes over 40Kb.