Hanes Chwarela - Adroddiad ar Dramffordd Penrhyn gan T. Dadford & Son.

 Copy

Report on a Conveyance of Slate from the Quarries (Penrhyn) Bethesda, to Port Penrhyn.
June 5th 1800 by T. Dadford & Son
---

We have surveyed and examined the country for a Canal and a Railway and found it very unfavourable for the former, owing to the great and irregular falls of the ground, and it would require a mile of locks and Incline Plane to pass the boats from one Canal to the other. The expense of making it would be very considerable and the carriage would not be done on it for less money than by rail.

The country is not so forbidding to a railway and will admit one as convenient as most places, which we recommend to be as follows, beginning from the present quarry and going Northwards Two Miles and Five Furlongs with a fall of 8 inches in a Chain (Twenty-two yards). Then to descend by an Incline Plane 142 yards long and fall 63 feet (5.3/10 inches in yard). From thence the road to continue Three Quarters of a Mile with a like fall of 8 inches in a chain and descend. An incline plane of 220 yards in length, 58 feet fall (3.1/10 indies in Yard). From thence continue the road Seven Furlongs falling 8 inches in a chain and then descend by a third incline 550 yards long, Falling 102 feet (3.7/10 inches in a yard), and from thence go to Port Penrhyn and Shipping Place. Making in the whole Six Miles, Six Furlongs and a fall of 558 feet. For the line refer to plan.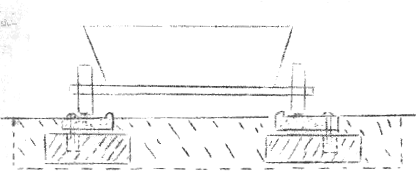 ---

PENRHYN TRAMP

T. Dadford and Son.

The Road to be as follows. Six yards wide and covered with gravel or broken stones Three Yards wide and Nine inches thick, on which place blocks of dtone nearly one Cwt with circular hole drilled in the middle 6 inches deep and 1½ inches diam; into which drive a wood pin to receive a nail for fastening the rails, after which the road to be raised with gravel &c. well rammed around the blocks (see section). The rails to be made one Yard in length to the Tram Rail plan with flanges and to weigh 40 Ibs. each, which will be 80 Ibs to the yard and 6 tons to the mile, On this road wagons with iron wheels properley constructed carrying from 50 Cwt to 2 Tons each, and a tolerable horse will take 6 or more of them with ease and return with the empty ones carrying 2 to 5 tons.

The incline planes to be on the Rotative principle or endless chain, working by a wheel at top and bottom and a double railroad for the loaded waggons coming down and the empty ones going up; by this means Slates will be taken down at about 7d. per ton, and from one to two hundred tons per day,
ESTIMATE

To- forming stoning &c the Road 11066 yards at 2/6 yd
1383
3
0

| | | | |
| --- | --- | --- | --- |
| | Do | Do | Incline Planes 692 yds at 4/- |

138
2
0
24902 Blocks-Stone, Nails etc @ 8d 830
830
0
0
457 Tone of Cast Rails @ £11 ton 5027
5027
0
0
Laying down the rails 150
150
0
0
Bridges waterways &c 150
150
0
0
Wheels, chains &c for incline planes 500
300
0
0

---

7978
5
0
Contingencies &c
350
0
0

---

8328
5
0

Cyf: XM7004/5
Adroddiad ar Dramffordd Penrhyn gan T. Dadford & Son..