Hanes Chwarela
---
The Enterprise of Welsh Slate Proprietors.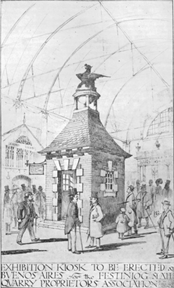 The members of the Festiniog [Ffestiniog] District Slate Quarry Proprietors' Association are to be congratulated on the spirit of enterprise which has prompted them to embark on an endeavour to further enlarge their sphere of operations Foreign competition is very keen and can no longer be treated with indifference and it is only by a vigorous aggressive policy that the British producer can hold his own in the world's markets. When a first-class article is on sale, its merits cannot be too widely known and it is folly to hide its light under a bushel. The products of the above Association have deservedly earned the highest of reputations and their qualities only require knowing to secure an extension of patronage With a view to educating possible customers on this point, the Association are erecting a Pavilion at the forthcoming Exhibition at Buenos Ayres to be opened in June.
This is designed to display to the best advantage the products of the Festiniog District Slate Quarry Association. The Red Dragon of Wales surmounting the gilded ball is supposed to illustrate the world-grip that Ffestiniog slates enjoy, the conquered planet being represented by the said ball.
The exterior (both walls and roof) is covered with small slates, those on the former being graded while the interior is panelled with samples of all grades and sizes, duly labelled and priced. 
The ball and beast were modelled and cast by Mr. Bankart from sketches by the architects, Messrs. Williams-Ellis & Scott, of London.
The Festiniog District Slate Quarry Proprietors' Association are also exhibitors at the Brussels International Exhibition. The exhibits include a lean-to roof covered with Portmadoc [Porthmadog] Best Old Vein Slates, a split block showing cleavage, numerous samples of roofing slates in various sizes and qualities and a quantity of fancy articles such as Fans, &c
In the case of both Exhibitions, the Festiniog Association is distributing a large quantity of leaflets, printed in French, German, Spanish and English, descriptive of the produce of their Quarries and affording information relative to the worldwide application of Portmadoc Slate for roofing purposes and its unrivalled enduring qualities under varying climatic conditions.
The primary object which the Festiniog Association has in view in seizing the opportunities thus presented for exhibiting their slate, is to demonstrate by practical evidence its superior lasting qualities over all other forms-natural or artificial-of roofing material, and to encourage its use in fresh markets.
Whilst it is fully recognised and admitted that roofs constructed of other forms of material may come and stay awhile, or come and go full soon, it is claimed for Welsh slate in general and Portmadoc slate in particular that roofs so formed will go on for ever!
The Irish Builder and Engineer in a digest of the slate trade in Ireland last year, refers to the great demand for slates in Ireland owing to the putting in force of the Labourers' Acts, 1883 to 1890 and the carrying out of works by the Congested Districts Board and the Estates Commissioners and says that it is only natural to find certain trade traditions and preconceived notions as to what should or should not be used on a roof. In one district, thin slates are required, in another thick slates, whilst almost invariably it is held that only large-sized slates are any use. Now a thin slate as well as a thick one, a small slate equally with a large one, will withstand any Atlantic storm ever known, provided, of course, the metal is right. Quite recently it has been reported from Southern Nigeria that the best old vein Portmadoc slates recently put upon the Railway Company's sheds, etc., were found absolutely sound and tight, after experiencing the fiercest tornado that has been known for years-a tornado which actually carried away bodily all the temporary buildings. These slates were an intermediate size (20in. X 10in.), and gauged about six to the inch. In Aberdeen-shire, where the weather conditions are appreciably severe, thick slates are used, say four to the inch and very small, 14in. X 7in., 12in. X 8in., etc., whilst in Northumberland-also facing the North Sea winds-similar sized slates, but quite thin, are preferred ; Lancashire uses large and thick slates; Wales uses them large and thin. It will, therefore, be seen that these are merely matters of local fashion and tradition. Neither the size nor the thickness has any bearing on the soundness of the roof in whatever situation. The one important feature is "quality," and hence durability.
The better qualities of Portmadoc slates will last at least 100 years, and numberless instances are known where after 100 years' life they have been re-used on new roofs. One of the most recent proofs of the confidence placed in the excellence of Portmadoc slates is that they have been chosen in preference to all others for the roof of the Peace Palace at The Hague. Another important work upon which they have been lately used is the New Barracks on Salisbury Plain, and even later is the re-roofing of some Government offices in Whitehall.
The Quarries associated as The Festiniog District Slate Quarry Proprietors' Association whose names are subjoined, are the sole producers of genuine Portmadoc Slates:-
The Oakeley Slate Quarries Company, Limited. Portmadoc, N. Wales; Messrs. J. W. Greaves & Sons, Limited, Portmadoc, N. Wales; The Votty and Bowydd Slate Quarries Company, Limited, Portmadoc, N. Wales; The Maen Offeren Slate Quarry Company, Limited, Portmadoc, N. Wales; The Craig-Ddu Slate Quarry Company, Limited, Blaenau Festiniog, N. Wales; The Bwlch-y-Slater Slate Quarry Company, Limited, Blaenau Festiniog, N. Wales; The New Rhosydd Slate Quarry Company, Limited, Portmadoc, N. Wales; The Diphwys Casson Slate Quarries Company, Limited, Blaenau Festiniog, N. Wales; The Park and Croesor Slate Quarries Company, Limited, Croesor, Near Penrhyndeudraeth, N. Wales; The Glan'rafon Slate Quarry Company, Limited, Carnarvon, N. Wales; The Wrysgan Slate Quarry Company, Limited, Portmadoc, N. Wales.
They are the largest slate producers in the World, their average annual output being 115,000 tons.
The quality and durability of these Slates have been proved by their universal use during the past 200 years.
Portmadoc slates are extensively used by the Admiralty, War Office, The Local Government Board, Ireland, and other Government departments, by the London County Council, the majority of municipal and local authorities in Great Britain, and the leading railway companies.
The export trade in Portmadoc slates to the Continent, colonies and foreign countries generally, is larger than that from any other district. The Government Buildings roofed with Portmadoc slate are:-Aldershot Camp, North and South (7,300 squares); Woolwich Arsenal Dockyard; Chatham Dockyard (Iron Foundry and Sheds); Gibraltar Reconstruction Works (200,000 slates); Portsmouth Dockyard (sheds and buildings); Military Hospital, Cape Town; Buenos Ayres Government (15,000 tons); Tidworth Barracks, Salisbury Plain.
Railway Companies using them are:-London and North Western Railway; Great Eastern Railway; Lancashire and Yorkshire Railway; Great Western Railway, London, Brighton, and South Coast Railway; Buenos Ayres Great Southern Railway; N. & S. Nigeria Railways', &c., &c.
Municipal and other Buildings: Horton Asylum, London County Council (over 100,000 slates);
Leavesdon Asylum, Near Watford , Hotel de Ville, Aire sur la Lys, France; Manchester Ship Canal (sheds); Warsaw Cathedral, Russia; Hamburg Cathedral, Germany; Town Hall, Copenhagen;
The Cape Town Houses of Parliament: The Royal Courts of Justice, London, &c., &c., &c.
A chemical analysis of a sample of Old Vein Portmadoc Slate undertaken by Mr. Bertram Blount, F.I.C., yielded the following result. The small proportion of Lime and Pyrites present is a distinctive feature:-
| | |
| --- | --- |
| | Per Cent |
| Silica (Si 02) | 53.25 |
| Titanic Acid (Ti O3) | 0.80 |
| Alumina (Al2 O3) | 24.09 |
| Ferric Oxide (Fe2 O3) | 1.87 |
| Ferrous Oxide (Fe O) | 6.55 |
| Manganous Oxide (Mn O) | 0.19 |
| Lime (Ca2 O) | 0.24 |
| Magnesia (Mg O) | 1.80 |
| Potash (K2 O) | 3.64 |
| Soda (Na2 O) | 0.74 |
| Phosphoric Anhydride (P2 O5) | 0.19 |
| Pyrites (Fe S2) | 0.13 |
| Combined Water and loss | 5.87 |
| | --- |
| | 100.00 |
As a test of absorption a test piece was immersed in water and allowed to remain there until saturated. The quantity of water absorbed was determined and found to be 0.18 per cent. by weight.
To show the transverse breaking strain, a load was applied across the centre. The distance between the supports was 22 inches. The following were the results :

Dimensions
Breadth. Depth
Maximum
Deflection
Inches

Ultimate
Stress lbs.
Inches
1
12 x 0.19
0.28
143
2
12 x 0.17
0.35
123
To test the action of acids, test pieces were exposed for 12 days to the action of moist sulphurous acid. In a few isolated spots small particles appeared, but the action was inconsiderable and the slate as a whole was unattacked.
A test was also made using hydrochloric acid (10 per cent: HC1) as the corrosive agent. At the end of 12 days the slate, except for a slight greenish stain, was unaffected. Remembering the action of acid-charged atmospheres on roofs, this is a feature the importance of which cannot be underestimated.
The trifling amount of pyrites present is of the ordinary kind, less easily oxidisable than marcasite
Tarddiad: The Slate Trade Gazette, 1910.