Technegau Chwarela - Y Chwarelwyr Henaf
Presentation of Institute for Quarrying First Gold Long Service Medal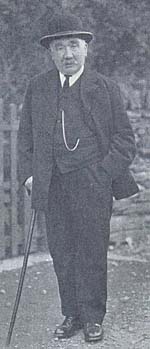 BY the courtesy of the Ffestiniog Urban District Council, who agreed to let their monthly meeting be preceded by the presentation, the party met in the Council Chamber on Friday evening, 1st December. Among those present were : —Mr. R. Montgomery Parker, Mr. J. Lloyd Humphreys, Capt. Evan Jones, Mr. J. R. Davies, Mr. J. Jones Evans, Mr. Joseph Williams, Mr. William Lewis, the Chairman and members of the Ffestiniog Urban District Council, Mr. Edward Jones, Solicitor and Clerk.
Mr. R. Montgomery Parker, who presented the medal, said that he was very glad to have been given such an important task to perform on behalf of the Institute of Quarrying. He expressed regret that Mr. Pochin and Mr. Key had been unable to come. He pointed out that the Institute of Quarrying was going to bring into force the distribution of medals to quarrymen who had devoted many years of their lives to the quarrying industry, and that he was very pleased that the first of these medals should have come to Blaenau Ffestiniog. He said that Mr. William Lewis's record was a most remarkable one in that he had spent 68 years of his life in the service of the Oakeley Company.
MR. WILLIAM LEWIS, hale and hearty at 83 years of age, after working in the Oakeley Slate Quarries, Blaenau Ffestiniog, for 68 years.
Uchod: Adroddiad yn sôn bod William Lewis, 83 mlwydd oed o Flaenau Ffestiniog, wedi cael ei anrhydeddu gyda'r fedal aur gyntaf gan yr Institute for Quarrying am weithio yn y diwydiant llechi am 68 mlynedd .
Tarddiad: Quarry Manager's Journal, Ionawr 1934


---
Chwarelwr Henaf Blaenau Ffestiniog
Tarddiad: Herald Gymraeg, 18 Awst 1881 [Prifysgol Cymru, Bangor].